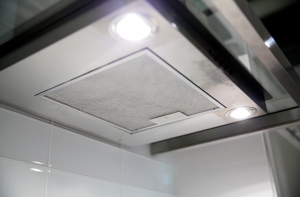 Commercial kitchens contain fire hazards and must be maintained properly to keep patrons and staff safe. Restaurants, hospitals, churches, schools, senior living facilities and many other places contain commercial kitchens that use kitchen hoods to prevent contaminated air from spreading through the kitchen.
No matter the size of your commercial kitchen, it is important to follow the requirements found in NFPA 96 to properly maintain your kitchen hood.
Why is Kitchen Hood Cleaning Important?
Cooking creates grease vapors that are collected by your kitchen hood. These grease vapors solidify and build up over time. Grease deposits can quickly build up inside of your hood, ductwork, and exhaust fan creating a fire hazard. The heat from your cooking equipment combined with the fuel of the grease can create a perfect combination for a disastrous fire. Cleaning your kitchen hood on a regular basis will help prevent dangerous fires.
There are many benefits to cleaning your kitchen hood including:
Reduction in kitchen fires
Reduction of injuries, deaths, and property damage due to kitchen fires
Compliance with NFPA standards and local codes
Possibility of lower insurance premiums
Improved ventilation for smoke and odor removal
Better working environment for kitchen staff
Longer equipment lifespan
What Happens During a Kitchen Hood Cleaning?
During a kitchen hood cleaning, the kitchen hood, filter tracts, plenum area, grease tracts and removable grease cups are all cleaned and degreased. The roof or wall mount fan is removed from the ductwork and the base, shroud and fan blades are all degreased. All accessible parts of the ductwork from the exhaust fan to the hood are cleaned and all filters are cleaned and degreased. Food grade polish is applied to all exposed areas of the hood and a written report is left on site noting any deficiencies or recommendations. A certificate showing the name of the company, the name of person performing the work and the date of the cleaning will be affixed to each hood cleaned.
Tessier's Performs Kitchen Hood Cleaning
Tessier's performs cleaning of kitchen hoods in accordance with NFPA 96 standards. We work with commercial kitchens of any size and perform cleanings as often as required. We serve restaurants, hospitals, hotels, senior living centers, schools, and much more. Tessier's can provide service throughout the state of South Dakota. In addition, we also offer installation and inspections of commercial kitchen hood fire suppression systems. To learn more, contact us today!