Government buildings need fire protection to protect lives and property. Whether it is a library, military grounds, courthouse or postal center, the government building should have systems installed and in proper condition. Having a properly functioning fire protection system can help avoid disruptions and protect important property.
What fire protection systems are used in government buildings?
The type of government facility will dictate what fire protection systems may be required. Some fire protection systems for government buildings include:
Fire sprinkler systems – Sprinkler systems are one of the best ways to protect your facility from a fire. They are highly effective at controlling fires.
Clean agent fire suppression – Government buildings with historical archives, computer rooms or valuable assets may need clean agent fire suppression systems to protect against fires without the risk of fire damage.
Foam fire suppression – Government aircraft hangers need foam fire suppression systems to protect against hazardous fuel.
Fire alarm systems – Alarm systems are necessary in government buildings to alert building occupants of a fire so they can safely evacuate.
Exit signs and emergency lighting – Emergency lighting and exit signs allow people to safely exit a building when there is a fire.
Fire extinguishers – Government buildings should have fire extinguishers placed throughout the building so that small fires can be controlled before they grow too large.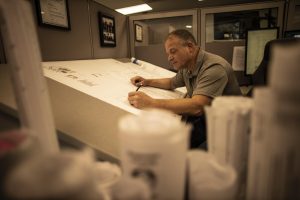 Fire Protection for Government Buildings in Washington D.C.
Reliance Fire Protection provides fire protection systems for government buildings in Washington D.C. and Baltimore, MD. As the nation's capitol, Washington D.C. has a high amount of government buildings. Reliance Fire Protection acts as the single service provider for all of your fire protection needs. From system design to installation to inspections, Reliance can do it all. If your fire system needs a repair, Reliance can help. We provide emergency service 24 hours a day to address any problems that may arise. Reliance can install and service fire sprinklers, clean agent systems, fire alarms and more for government buildings. If you are interested in learning more about the services we provide, contact us.