Paint booths are areas for paint applications, designed to contain hazardous vapors and materials. These areas often contain paints, solvents, and other flammable substances that produce a higher risk of fire. Fires in these contained areas start when the airborne substances are ignited by equipment such as cutters or welders that may produce a spark. In order to make sure the lives and equipment inside these areas are protected, particular fire safety measures must be taken. So how do you make the area a safer place to work? One answer is something called paint booth fire suppression systems.
What Are Paint Booth Fire Suppression Systems?
There are different types of paint booth fire suppression systems, but the most common is the dry chemical fire suppression system. These systems are used in paint spray booths and industrial settings. The suppression systems have either a thermal electrical heat detector or a fusible link detector (more commonly used in paint booth settings). When a fire is detected an alarm will sound to notify occupants of the danger. The system will then shut down equipment and turn off fans that circulate airflow. The dry chemical agent is then discharged into the area to suffocate the fire. This process is meant to be fast and efficient to save lives and assets within the building.
NFPA 33 Standard
The NFPA 33 standard writes out the guidelines for fire control of indoor spray paint applications such as paint booths. Paint booths that are subject to the NFPA 33 are large-scale, indoor spray applications such as industrial spray booths. Manufactures with spray booths using non-flammable coating, outdoor applications, or are very small scale, are not required to comply with this code. It is important you follow the guidelines for both suppressing fires as well as preventing them. The code discusses the paint booth design, process flow, area ventilation, as well as proper cleanup and disposal of flammable material. By following the guideline for preventing a fire, you can hopefully limit the possibility of needing to suppress ignited fires.
Delta Paint Booth Fire Suppression Systems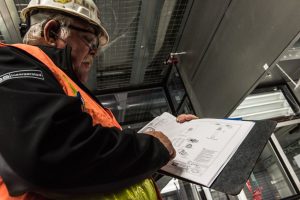 At Delta Fire Systems we offer dry chemical fire suppression systems for paint booths, machinery, industrial processes and equipment, dipping tanks, and mixing room applications. Our dry chemical fire suppression systems are manufactured by Pro-Chem and Buckeye and are made to protect the lives and property of our customers.
At Delta Fire Systems we can provide the following services for your paint booth suppression systems:
Installation
Testing
Inspection
24-hour emergency service
Repair
Contact Delta Fire Systems today to learn more about our paint booth fire suppression systems or to request a free, no-obligation quote.