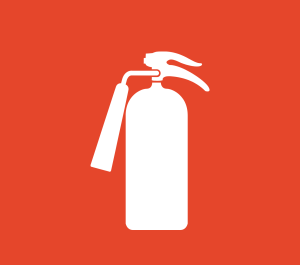 If you are a NYC business or building owner with fire extinguishers, you are required to have your extinguishers inspected and tagged by an FDNY approved fire extinguisher company. To crackdown on fraudulent services, fire extinguishers must be tagged with a FDNY issued tag after being inspected.
What is the FDNY Fire Extinguisher Tag Rule?
The FDNY fire extinguisher tag rule went into effect on November 15, 2018. This new addition to the NYC fire code requires that all fire extinguishers are tagged with an FDNY issued tag after the annual inspection service. This helps to protect people and property from preventable fires caused by companies providing bogus services.
Only companies that meet the NYC licensing standards are eligible to purchase FDNY issued extinguisher tags and perform sales and service of fire extinguishers. These tags are the only acceptable proof of inspection, cleaning and servicing of fire extinguishers and commercial cooking exhaust systems.
How Can You Distinguish a Fraudulent Tag from a Real Tag?
FDNY issued fire extinguisher tags have security measures, including holograms to prevent the fraudulent reproduction of the tags. Some features of real FDNY issued tags include:
A specific, unique shape size and color
A hologram on the front of the tag that displays an array of colors under light
Name and logo of the authorized company is printed directly on the tag by the FDNY
Technician's name and Certificate of Fitness number is printed on the back of the tag
The back of the tag has the authorized company name and license number
A designated field for the serial number and location of fire extinguisher
QR code that directs you to the online FDNY authorized list of suppliers
How Can I Keep My Fire Extinguishers Code Compliant?
To keep your NYC fire extinguishers in compliance, you must have them inspected, tested, serviced, and tagged on a regular basis by an FDNY approved company. A qualified fire extinguisher company can provide guidance on how often your extinguishers need to be serviced as well as provide refills, recharging, or replacement of extinguishers. If you are a business owner or building manager, you should perform visual checks of your extinguishers to make sure that nothing looks out of place, that your extinguisher tags are not expired, and that your extinguishers are easily accessible and not blocked by furniture or other materials.
What Happens If My Extinguisher Tags are Expired?
If you have expired fire extinguisher tags, you may receive an FDNY Violation that can increase your insurance costs and even close your business if it not addressed. It is important to reach out to an FDNY approved fire extinguisher company to provide the necessary service and retagging of your extinguishers to avoid the consequences of noncompliance. Keeping your extinguishers up to date on inspections and service will help to keep your building occupants and property safe from fires.