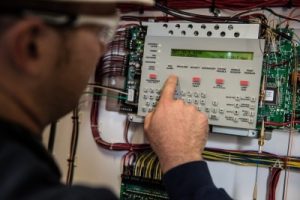 With technology improvements, security and monitoring systems are becoming more accessible for your facility. Security technology includes everything from doorbell cameras to access control on doors and windows. Just as you want the police alerted immediately if there was a break-in at your home, you would also like the fire department notified in case of a fire. Security and fire monitoring go hand-in-hand and can be centralized at one monitoring station. If you are looking into one or both of these systems, here is the low down.
Have Peace of Mind with a Security System
Security systems give home and business owners peace of mind knowing their properties are protected with the click of a button. Using apps on your phone you can be alerted when someone is at your front door or access cameras when movement is sensed.  Access control systems are being installed in schools across the country for this reason.  These systems can more easily lock down a school and also control who is entering and where they enter.  Assisted living homes and nursing homes are adding these as well to help keep dementia patients from wandering off the premises.
Central Station Fire Monitoring Systems
Fire monitoring systems are able to alert the central station and emergency response team as soon as a problem arises. When every second counts, your facility and occupants will receive help as soon as possible.  Fire protection systems need to be inspected regularly and monitoring can make this process much easier. By consolidating your monitoring and fire protection providers to one point of contact, problems can be diagnosed and techs dispatched quickly. During inspections, your provider can put your system in test mode with the push of a button.
Along with the protection and peace of mind monitoring provides, there are financial benefits as well.  Having both security and fire monitoring lowers liability insurance for your property and will help to lessen any damage costs associated with a security breach or fire
At Delta Fire Systems, we have been continually improving the services we offer for our customers.  In September of 2017, we acquired AEI Systems group which is an audio and electronics company based out of Meridian, Idaho.  We are now offering cutting-edge technology and the same excellent customer service to optimize safety for schools, hospitals, official and government facilities, and churches alike.  Along with being a full-service fire protection company, we can now offer all of your security and monitoring needs for your home or business.  Contact us today to find out more, call 800-288-4500.