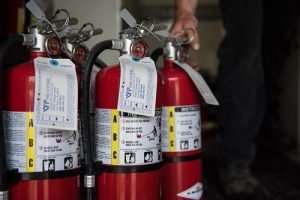 As a fire protection provider for the healthcare industry, APi National Service Group (APi NSG) wants to keep you informed on the latest regulations and technology updates within this industry. One of the latest updates involves the compliance of fire extinguisher protrusion in healthcare facilities. Unfortunately, surface-mounted extinguishers in these buildings may not be meeting the latest standards. Thanks to technology updates and redesign, there is a solution!
The Problem and Solution for Healthcare Facilities
Based on the 2012 edition of the NFPA-101, fire extinguishers in healthcare facilities (hospitals, ambulatory, long-term care, and senior living facilities) cannot protrude more than 4 or 4.5 inches from a mounted surface. The rule is that if an extinguisher is located below 38 inches from the ground, the limit is 4.5 inches of protrusion. However, if an extinguisher is located above 38 inches from the ground, like most are, the protrusion limit is 4 inches. If you are thinking this doesn't sound like enough space for your typical 5 and 10 lb. surface-mounted extinguishers, you would be correct. This is why Oval Brand Fire Products has come out with an ADA compliant fire extinguisher that meets the standards for protruding objects. Thanks to the shallow depth of these extinguishers (3.5 inches), recessed cabinets are not necessary and they can be surface-mounted without fear of regulation violation. Besides being compliant with healthcare facility guidelines, here are a few other standout features of these extinguishers:
Constructed of tempered space-age metals and are corrosion free.
Have an anodized aluminum nozzle and stainless steel handle.
Include an environmentally conscious powder coat finish.
Learn More
For more information, visit the Oval Fire Products website. If you have any questions in regards to fire protection within the healthcare industry, please contact APi NSG at 888.274.8595 or visit our website.