The loss that a fire creates can be catastrophic and even though sprinkler systems are meant to help, the damage that the water causes may give owners an additional headache and extensive damage to systems, especially in the event of a false activation over sensitive and expensive equipment.  One of the newest fire extinguishing systems that is available today is the Victaulic Vortex Fire Suppression System which essentially leaves no damage to anything in the protected area.  The Vortex system mixes small water droplets with nitrogen to extinguish a fire by absorbing the heat and reducing oxygen, removing key elements of the fire triangle.
How it works
When a fire is detected, the system immediately activates based on various electronic detection options.  During the activation, water is brought together with a high-pressured stream of nitrogen and then transported with the nitrogen into the area at risk.  The high velocity, low pressure release of the water/nitrogen mix, douses the fire and extinguishes it quickly via heat absorption and oxygen deprivation. In the process, there is no water condensation.  Oxygen levels are high enough for human occupancy in the room while the system discharges without needing to evacuate (contrasted with CO2 systems).  It is safe for electronic equipment, and will not cause damage to servers or other data storage, even without requiring shunting power to those devices!
Benefits of Vortex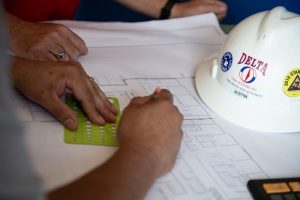 The Vortex System is self-contained and requires no piping to an outside water source.  The system immediately activates upon fire detection and the mixture of water droplets and nitrogen create minimal water presence to extinguish small or large fires, which in turn has no costly clean up or need to replace equipment.  Recharging the system is quick and easy, meaning the downtime is very minimal, keeping your items and/or resources protected.  With an entirely green design that is safe for the environment and personnel,
Delta Fire can install your Vortex System
Delta Fire, as the only authorized Integrator in all of Idaho, and only one of two Integrators in Utah, has personnel who are fully trained in all mechanical aspects of fire suppression systems, with experience in design/engineering, installation, inspection, and maintenance.  Working with most major manufacturers and suppression systems, Delta Fire can recommend the right system to better protect the people and equipment at your facility, while reducing cleanup costs and downtime after an incident.  Delta Fire has been providing the Intermountain and Pacific West regions with high quality fire protection services since 1963. For more information on the fire suppression and fire protection services offered by Delta Fire, give us a call at 800-288-4500 or visit our website!