When it comes to keeping your business, occupants or visitors safe, you deserve nothing but the best. That's why it is important to invest in high quality engineered security systems that will keep your building occupants, visitors and property safe. There are many types of security systems available for your applications.
Video Surveillance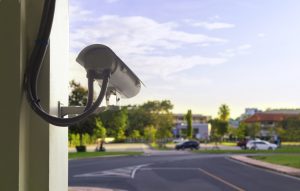 One of the most common types of security for businesses is video surveillance. This type of security system uses video images to improve response time of emergency services and reduce false alarms. If anything goes wrong in your place of business, video surveillance will capture it. It can use video analytics to make you aware of issues, including but not limited to motion detection, flame detection, heat detection, aggressive behavior and many others. Video history can give a valuable resource to plan and secure your building properly.
License Plate Recognition (LPR)
Leveraging state of the art software with vehicle mounted or fixed cameras an LPR solution can allow you to manage your parking facilities properly. From ticketing based on time or unauthorized vehicles to allowing or denying access to a parking facility. The LPR solutions can ease the burden of unwanted or extended stay of vehicles.
Access Control
Another common security system is access control. With access control systems, each specific person or employee has an ID card or can use retina scan, biometrics, scramble pads, or combinations of these, that allows them to visit authorized sections of a building. These systems ensure that only those with authorization can visit your facility or parts of it.
Guard Tour
Guard tour patrol systems log the round of security guards as they patrol a property. These systems help to ensure that employees make their rounds at the correct intervals and record when the employee reaches critical points on their tour route such as access points, vaults, or vital equipment. Not all guard tours are stand alone some can be set up to use your existing card access system as check in points.
Perimeter and Intrusion Detection
This form of fire protection extends the area of protection by detecting the presence of an intruder trying to breach the perimeter of a property.  Whether it is on the ground or in the air there are systems that can protect your facility from unwanted intruders.
Intercom and Public Address
This system uses an intercom to transmit communications across a building or to a large group of people.  Intercom and public address systems make it easy to make announcements quickly to a wide audience with live or prerecorded messages.  In an emergency it can be crucial to have a way to reach your employees and visitors. System's can be stand alone or completely integrated.
PSIM's and Command Control Centres
Do you have multiple systems that you would like to have all under one pane of glass. We have the ability to offer software packages that will make your response times quicker or give standard operating procedures to your staff. There are some amazing options to leverage your infrastructure into a modern and easy to use fully integrated system.
Choose a Security System That's Right for You
With so many options out there when it comes to security for your business or property, it can be hard to decide which ones are right for you. When you work with Vipond, we can provide custom systems based on your needs and application. We want to protect your buildings and people which is why we offer video surveillance, access control, guard tour, perimeter and intrusion detection, intercom and public address systems. We can also provide systems integration to combine systems to streamline your equipment toward a single goal. Contact us today to learn more.