Kidde Fire Systems is one of the leading manufacturers of special hazard fire protection systems. The Kidde Fire Systems brand includes Chemetron and Fenwal. Kidde's parent company, Carrier, also owns Marioff.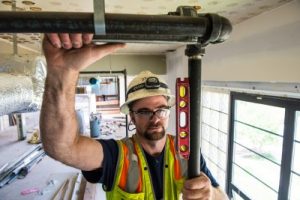 Some of the fire protection systems manufactured by Kidde and Kidde's description of the systems are as follows:
Air Sampling Smoke Detection – This system is designed to provide early warning detection of a fire through laser-based detection and designed to continuously adapt its sensitivity to the environment in which they are installed.
CO2 Suppression Systems – Kidde manufactures both high-pressure and low-pressure CO2 systems. Carbon dioxide is an odorless, colorless, inert gas that dilutes oxygen needed for combustion.
Clean Agent Suppression Systems – Some of the clean agent systems offered by Kidde include FM-200™ and 3M™ Novec™ 1230 suppression systems. These systems are designed to provide a flood solution that protects valuable assets and can be used in occupied areas.
Dry Chemical System – The IND™ Dry Chemical Fire System offers two dry chemical agents effective on Class A, B and C fires. This system is designed to be effective for paint spray booth applications, industrial processes, equipment, and machinery.
Heat Detection – Kidde offers two types of heat detection systems. These systems are designed to work well for detecting fires in a wide range of commercial and industrial applications.
Inert Suppression Systems – The Natura™ Inert Gas System by Kidde offers a choice of 4 agents. This system is designed to be safe for the environment and for occupied areas.
Kitchen Fire Suppression Systems – Kidde manufactures a wet chemical fire suppression system for kitchens. This system is pre-engineered and complies with NFPA Standards 96 and 17A.
Water Mist Systems – The HI-FOG water mist system uses very fine water droplets to control, suppress and extinguish fires.
Smoke Detection – Kidde manufactures a variety of smoke detectors to alert and notify personnel of a fire so people can evacuate the building safely.
Portable Fire Extinguishers – Some of the portable fire extinguishers offered by Kidde include CO2, dry chemical, halotron and water fire extinguishers that work well for a variety of industrial and commercial applications.
Delta Fire is an Authorized Kidde Distributor
Are you interested in installing a Kidde fire suppression system in your application? Delta Fire Systems is an authorized distributor of Kidde Fire Systems products. We design and install CO2, clean agent, inert gas, water mist and kitchen fire suppression systems. Delta also can inspect, test and repair fire suppression, alarm and sprinkler systems. We serve customers in Idaho, Utah and Nevada. Contact us today!