As a warehouse distribution center safety manager for multi-site facilities, it can be challenging to identify and minimize fire risks and keep-up with your warehouses' fire protection needs. Therefore, to give you a quick reference guide, we have provided a summary of the most common warehouse fire risks to watch for and what you can do to minimize them.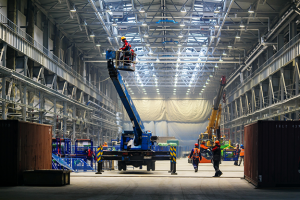 The Most Common Warehouse Fire Causes
According to the National Fire Protection Association's (NFPA) five-year study, "Structure Fires in Warehouse Properties," U.S. fire departments responded to an average of 1,210 warehouse fires that caused an average of $155 million in direct property damage, 19 civilian injuries, and three deaths each year.
The study revealed that there were 220 intentionally set fires a year – the leading cause of fire and the most destructive – resulting in 32% of all warehouse property damage and $50 million lost. The next six, in order of damage and injuries, include:
Electrical and lighting (18% of fires, responsible for 38% civilian injuries)
Trash and rubbish (170 fires/year, most are contained with minimal damage)
Heating equipment (90 fires, $5M damage/year)
Exposure fires (7% of fires, $11M damage/year)
Combustible liquids/flammable materials (6% of fires, responsible for 31% civilian injuries)
Cigarette-related fires (60 fires, $17M in damage/year)
The NFPA study also details many other causes of fire and hazards that could be present in your distribution centers or warehouses, such as cooking equipment, power tools, compressors, and more.
"What Can I do to Minimize my Warehouses' Fire Risk?"
Most likely, your warehouses are immense with extra-tall ceilings, miles of square footage, and high-piled racks stacked with open bins and an array of goods. So, what can you do to minimize fire risk and ensure your massive distribution centers have the proper fire safety measures in place?
Ensure you have the right fire protection equipment for the space and contents.
Confirm that fire sprinklers and fire extinguishers are unobstructed 100% of the time.
Determine if you have enough water supply for the sprinkler systems.
Make sure your life safety systems are up-to-date and fully operational.
Perform preventative fire protection systems inspections as per NFPA and local codes
Train employees on fire safety and how to prevent the most common warehouse fire dangers.
Warehouse Fire Protection Assessments & Inspections
If you're unsure about your fire protection needs and the fire risks present in your warehouses, a great place to start is with an assessment. Your local Authorities Having Jurisdiction (AHJ) can inform you which fire protection systems are required locally, or you can contact AIE and we can do the work for you.
We are a national, single-source fire protection company that specializes in warehouse distribution center fire protection and life safety solutions. We can help you determine if you have the right fire protection at each of your warehouse facilities and perform any inspections, maintenance, and repair that may be needed as a result of the assessment.